HK Fintech Week 2021 Satellite Event: HKMU Education Series - Blockchain from Bitcoin to NFT to Metaverse
04 Nov 2021 - 04 Nov 2021
HK Fintech Week 2021 Satellite Event: HKMU Education Series - Blockchain from Bitcoin to NFT to Metaverse
04 Nov 2021 - 04 Nov 2021
Date & Time
04 Nov 2021 - 04 Nov 2021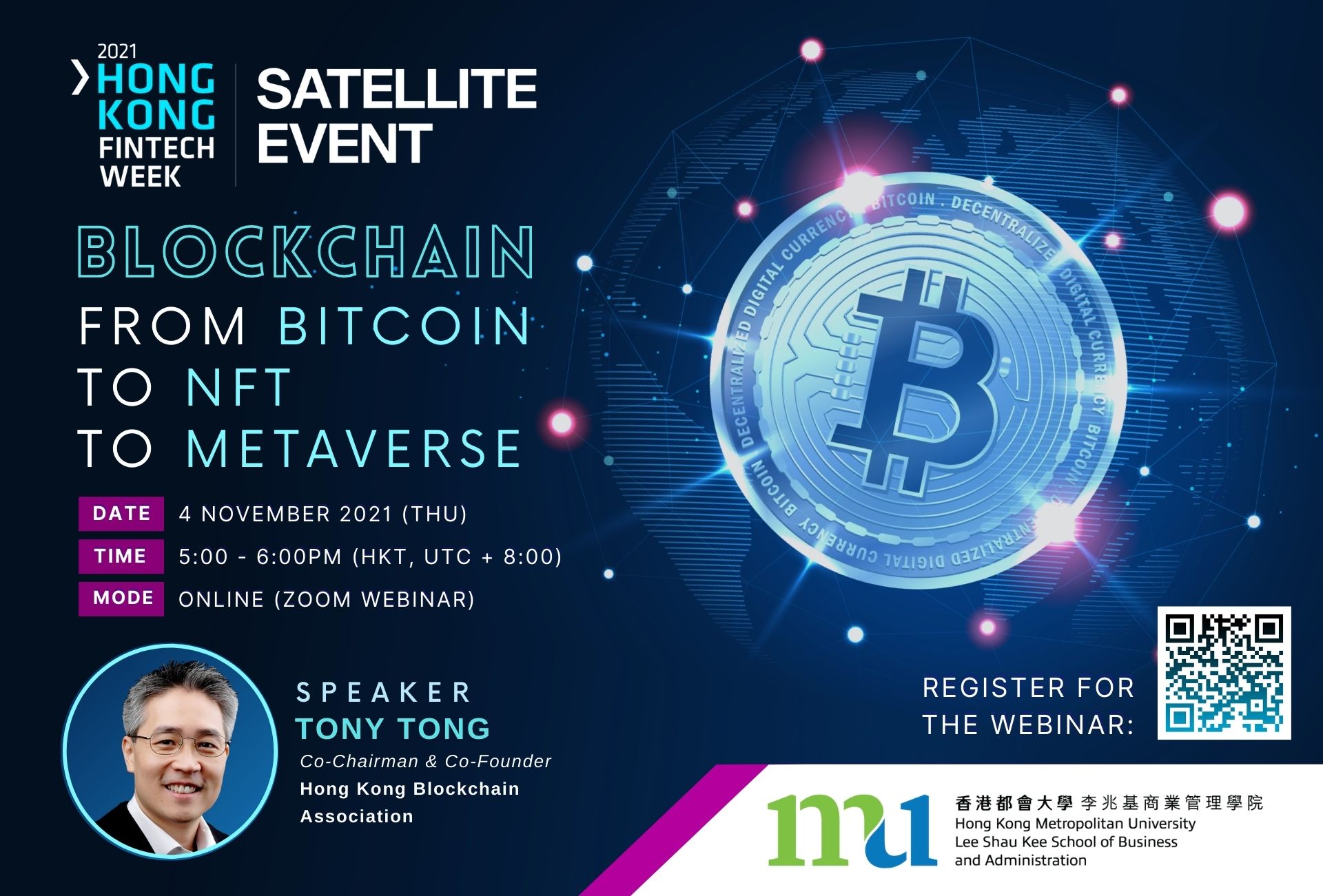 HK Fintech Week 2021 Satellite Event: HKMU Education Series - Blockchain from Bitcoin to NFT to Metaverse
This past summer, Elon Musk's doge tweet sent Dogecoin soaring. Meanwhile, Facebook CEO Mark Zuckerberg told his employees that Facebook would strive to build a maximalist, interconnected set of experiences straight out of sci-fi — a world known as the metaverse. At the same time, the Chinese government banned all crypto exchanges in China once again while the SEC has given the go-ahead for bitcoin futures ETFs. Blockchain technology has gone beyond crypto-currency speculation to a bigger world.
In this 1-hour talk, the speaker will start with the history of money, filled with conflict and competition and the history of crypto-currency, grown almost on savages and dramatic rags-to-riches stores; and then take a deep dive into its current regulatory environment around the world where major exchanges are facing critical sanctions and challenges, introducing how regulators are shaping the digital assets industry (or trying).To stay relevant, Hong Kong's role in the blockchain sphere will be emphasized.
If time allows, the questions like why people love crypto will be answered. Tether, a widely used stablecoin for payments, with a market capitalization close to $60 billion, is almost as big as the Reserve Fund was in 2008. Can it be trusted? Why NFT and metaverse might be the best racing track to invest your time & money. Any more questions are welcomed.
SPEAKER:
Mr. Tony Tong
Co-Chairman of Hong Kong Blockchain Association HKBA,
President of GlobalSTOx