Talent
Basing your firm in Hong Kong gives you access to a deep pool of Fintech and professional talents, including almost 200,000 experienced accounting, banking, and asset management professionals. In addition, the city's world-class universities ensure a continuous flow of new talents educated with the latest knowledge and innovations.
HK's deep professional and financial services talent base

Account and Audit
45,000+
Chartered Accountants 1

Asset & Wealth Management
45,000+
Registered Professionals 2

Banking
100,000+
Professionals 3

Insurance
121,000+
Registered Professionals 4

Legal Services
13,000+   
Practicing Lawyers and Barristers 5
Through Hong Kong's Technology Talent Admission Scheme (TechTAS), you can fast-track visas for talent with hard-to-find skills from Mainland China and overseas to undertake Research and Development (R&D) work. 
Visit Technology Talent Admission Scheme (TechTAS) for more details.


InvestHK facilitates your business operations by connecting you to organisations and companies for collaborative opportunities, regulatory assistance and resources that you can call on along every step of your company's journey, from initial launch to overseas expansion.     
HKSTP
Talent Support
HKSTP works with local and overseas universities, as well as professional associations, to connect your company with promising talent. HKSTP attracts out-of-the-box thinkers from the community through career expos, talks, exhibitions and exchange programmes designed to spark their entrepreneurial spirit. HKSTP helps you recruit your dream team with different funding and talent programmes backed by the Innovation and Technology Commission.
HKSTP Innovation with Us – Talent Support
Hong Kong's universities rank 3rd overall worldwide for computer science and IT, and 4th worldwide for accounting and finance, making them an excellent resource for hiring new talent and upskilling your company's existing talent. Stay competitive with continuous access to the latest knowledge, innovations and technological breakthroughs in Fintech.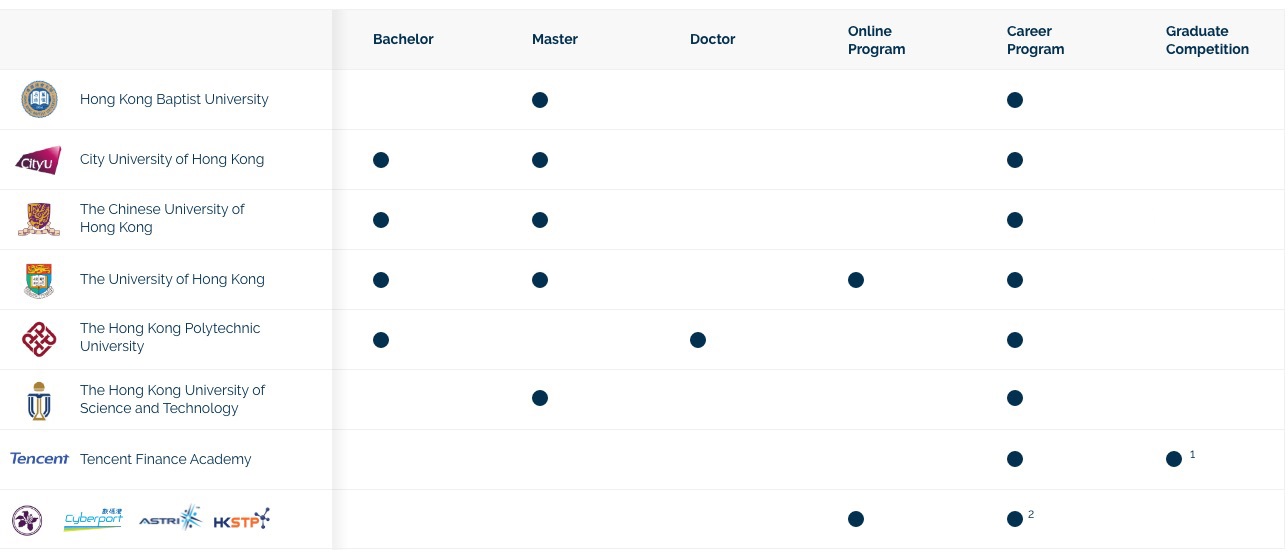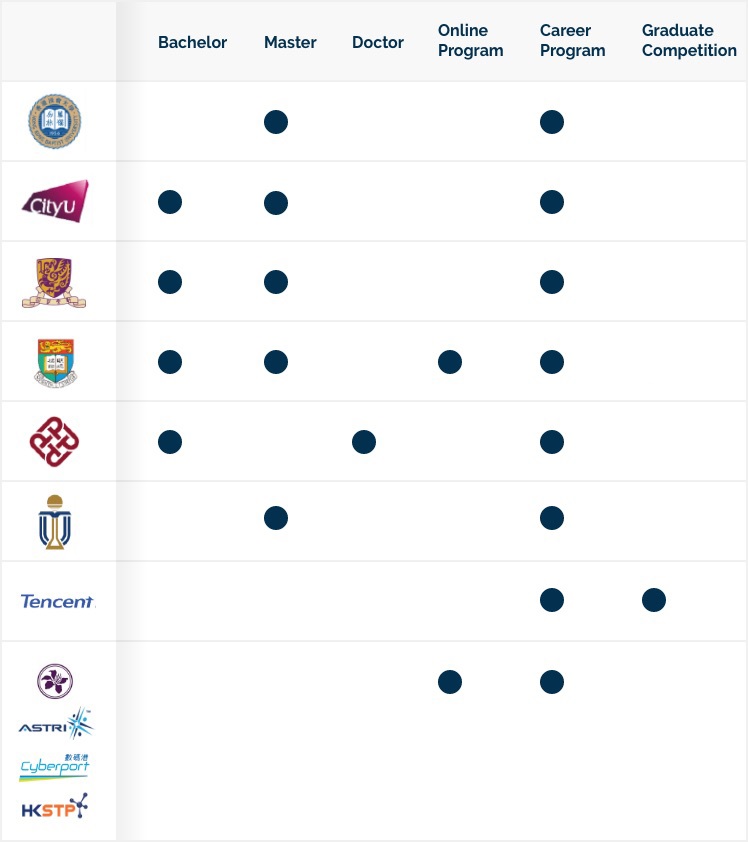 Hong Kong Baptist University
Master Programme
Approved Programme under UGC's Targeted TPg Programmes Fellowships Scheme
Master of Science (MSc) in Finance (Fintech and Financial Analytics)
City University of Hong Kong
Bachelor Programme
The BSc Computational Finance and Financial Technology major has two streams, namely (1) Computational Finance Stream and (2) Financial Technology Stream. Students could also opt for an integrated curriculum covering both domains.
BSc Computational Finance and Financial Technology
Master Programme
The aim of this programme is to help advance the future career prospects of middle-level accounting and finance managers by furthering their knowledge in advanced accounting and finance topics in line with the contemporary trend in artificial intelligence and financial technology applications, and providing them with opportunities to gain insights on senior leadership attributes and capacity, with the aim of preparing these middle-level managers aspiring for CFO or even higher position in the business context. 
The programme will be taught in Chinese (Putonghua) supplemented by English.
MSc Accounting and Finance with AI and Fintech Applications
The Chinese University of Hong Kong
Bachelor Programme
To educate and equip students with the essential knowledge and capabilities to apply technological innovations to financial services; to nurture leadership and entrepreneurship for the next generation of financial talents in support of Hong Kong's endeavor to grow to an international Fintech hub.
Bachelor of Engineering Programme in Financial Technology
Master Programme
After completion of the programme, students are expected to be well suited for jobs that require strong technological skills in finance-related industries including banking, insurance, asset management, internet finance, Fintech start-ups and government regulatory agencies.
Master of Science Programme in Financial Technology
The University of Hong Kong
Bachelor Programme
The BASc(FinTech) degree is designed to nurture financial technologists and entrepreneurs with essential knowledge in both finance and technology, so they can take leading roles in innovation and applications of financial technology.
An emerging interdisciplinary area with very high impact on the economy of every society, this programme combines computing, finance, and policies and regulations to give students a thorough grounding in FinTech.
Bachelar of Arts and Sciences in Financial Technology (BASc(FinTech))
Master Programme
The HKU Master of Finance in Financial Technology (MFFinTech) Programme aims to prepare students for a career in the ever-changing world of finance – a world fueled by constant technological advancements and innovations. Students will gain essential knowledge and skills in finance, FinTech, and digitalisation necessary for navigating the changing landscape of the finance industry. Not only should students have a strong understanding of finance and technology in the digital age, but also a well-balanced critical awareness of ethical and regulatory constraints and knowledge of the hottest industry trends. Business opportunities generated by "big data" in finance and insurance, along with other emerging digital technologies including blockchain, AI and cloud computing will be explored in detail. 
Master of Finance in Financial Technology (MFFinTech)
Online Programme
In this interdisciplinary Professional Certificate program in Fintech, you will learn about the world of Fintech and the opportunities and challenges it is bringing around the world. The Professional Certificate program will give you the tools to understand the interaction of finance and technology across the financial system as well as insight into the major technologies involved and the emerging business models and players in the industry.
Professional Certificate in Fintech
The Hong Kong Polytechnic University
Bachelor Programme
The BSc (Hons) in Financial Technology and Artificial Intelligence aims to cultivate financial technologists with the strength of developing intelligent software applications and innovative finance solutions. The programme equips students with good fundamental computing knowledge with a focus in AI, sound finance concepts, strong intellectual and practical skills to apply computing technologies in finance and related areas.
BSc (Hons) in Financial Technology and Artificial Intelligence
Doctor Programme
PolyU DFinTech is a cross-disciplinary and rigorous programme which draws upon the pooled resources of different faculties within the University. With academic papers publishing in prestigious international journals, our subject professors are experts in big data analytics, artificial intelligence, blockchain, smart city, digital supply chain management, digital marketing and FinTech economics.
Doctor of FinTech (DFinTech)
The Hong Kong University of Science And Technology
Master Programme
The MScFinTech program provides students with fundamental knowledge and skills relating to popular financial technologies and their engineering and financial principles, thereby enhancing students' market competitiveness in the remarkably booming FinTech space. In view of the multi-disciplinary nature of FinTech, the program, jointly run by the School of Business and Management, School of Engineering, and School of Science, draws expertise from timely areas such as information technology, blockchain, decision analytics, etc..
Master of Science in Financial Technology
Tencent Finance Academy
騰訊金融學院(香港)於2018年6月6日成立,致力於成為培育金融與科技跨界人才的開放式平台。通過金融科技資源的整合和共享,騰訊金融學院(香港)將培養粵港澳大灣區金融科技創新人才,助其在"互聯網+金融"跨界發展。騰訊金融學院(香港)亦與政府、業界及學界保持緊密合作,共同在粵港澳大灣區推動金融科技的普及。騰訊金融學院(香港)於2018年在香港舉辦了第一屆金融科技人才培養計劃及金融科技比賽,廣受好評。從2019年開始,將此計劃推廣至粵港澳大灣區。
Career Programme
Tencent Finance Academy
Graduate Competition
Tencent Finance Academy (Hong Kong) is inviting applications for its Fintech Competition themed "Tech for Good". The competition aims to encourage students to learn about and make use of financial technology to make our lives easier and to boost the development of fintech in the Greater Bay Area.
Tencent Finance Academy Fintech Competition 2020 "Tech for Good"
Others
Gap Year Placement Programme
The Gap Year Placement Programme is a full-time, semester-based internship in which interns will work on fintech projects at the HKMA, banks (including virtual banks) or stored value facility operators for six months or one year and receive technology training and regulatory updates respectively.
Gap Year Placement Programme
Cyberport University Partnership Programme
Cyberport University Partnership Programme is a fintech-focused entrepreneurship boot camp at a prestigious overseas university, with mentorship and sharing offered by industry elites and start-ups.
Cyberport University Partnership Programme
Shenzhen Summer Internship Programme
The Shenzhen Summer Internship Programme allows students to experience the fintech ecosystem in Shenzhen by working at renowned firms in summer.
Shenzhen Summer Internship Programme
Fresh Graduate Programme
Through the Fresh Graduate Programme, Cyberport and the Hong Kong Science and Technology Parks Corporation encourage their fintech tenants to employ fresh or recent graduates full-time, with the HKMA and ASTRI providing regulatory updates and technical training respectively to these graduates.
Year-Round Fintech Internship Programme
The HKMA launched the Year-Round Fintech Internship Programme by working with fintech ecosystem partners to provide information of a wide variety of fintech internships and placements on an ongoing basis.
Year-Round Fintech Internship Programme
MIT Entrepreneurship and FinTech Integrator (MEFTI)
MIT Entrepreneurship and FinTech Integrator (MEFTI) is a 10-day fintech startup bootcamp for MIT and local university students to prepare themselves as future fintech entrepreneurs.

MIT Entrepreneurship and FinTech Integrator (MEFTI)
Remarks
1. The Hong Kong Institute of Certified Public Accountants, 2019
2. Securities and Futures Commission Survey, 2019
3. Census and Statistics Department, 2019
4. Insurance Authority, 2020
5. Hong Kong Law Society, 2020
Remarks
1. Tencent Finance Academy (Hong Kong) with HKU
2. Fintech Career Accelerator Scheme ("FCAS")