FintechHK Seminar - How to Grow from Novice to Knowledgeable Collector
17 Jun 2022 - 17 Jun 2022
FintechHK Seminar - How to Grow from Novice to Knowledgeable Collector
17 Jun 2022 - 17 Jun 2022
Date & Time
17 Jun 2022 - 17 Jun 2022
4:15 PM - 6:00 PM HKT
Venue
20/F, One Pacific Place, Admiralty, HK
View Map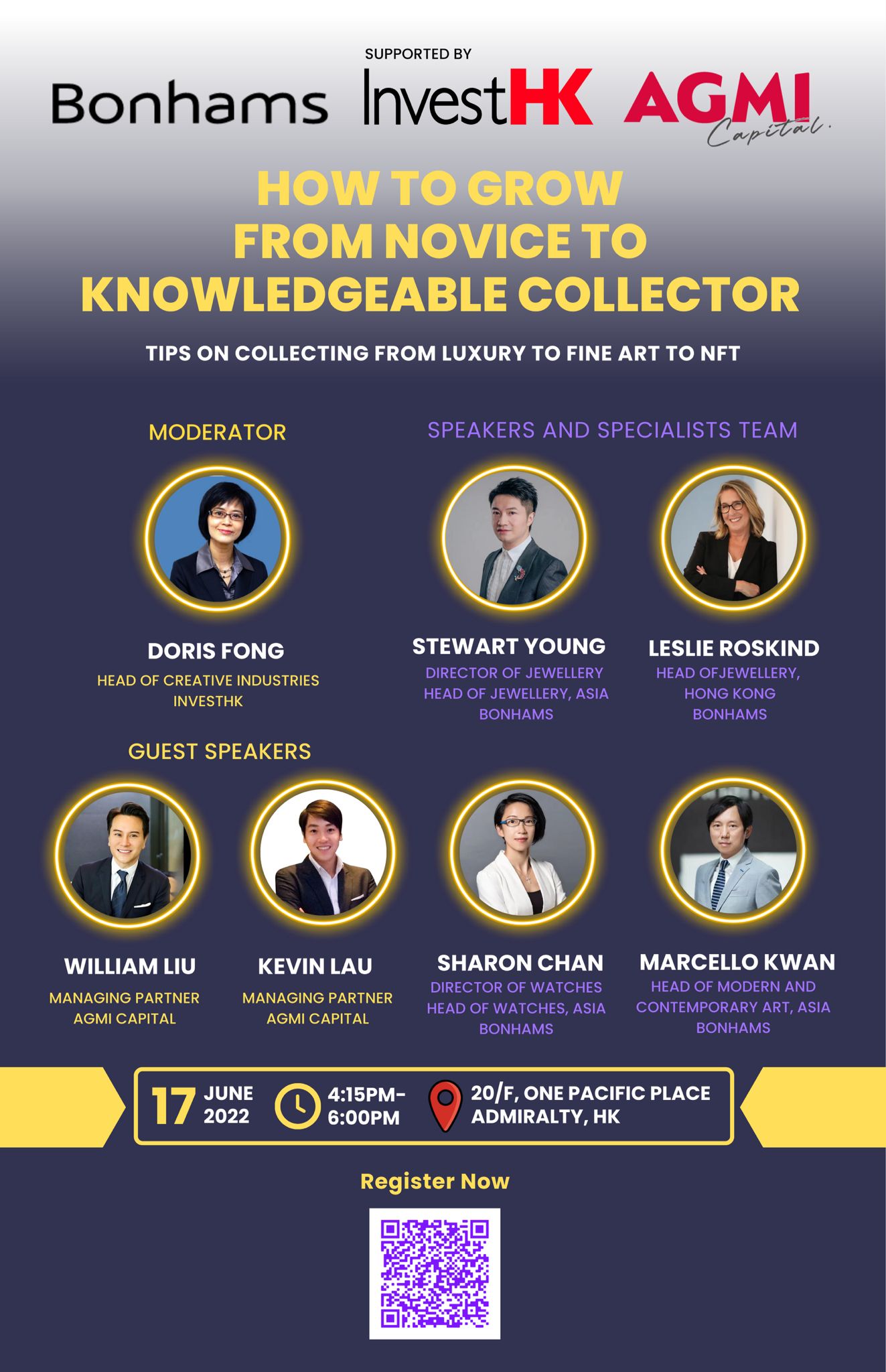 Date and Time
17 June 2022 (Friday) : 4:15 pm - 6:00 pm HKT
Venue
20/F, One Pacific Place, Admiralty, Hong Kong
Organiser and Supporting Organisations
Bonhams
InvestHK
AGMI Capital
Speakers and Specialists Team
Stewart Young, Director of Jewellery / Head of Jewellery, Asia, Bonhams
Leslie Roskind, Head of Jewellery, Hong Kong, Bonhams
Sharon Chan, Director of Watches / Head of Watches, Asia, Bonhams
Marcello Kwan, Head of Modern and Contemporary Art, Asia, Bonhams
Guest Speakers
William Liu, Managing Partner, AGMI Capital
Kevin Lau, Managing Partner, AGMI Capital
Moderator
Doris Fong, Head of Creative Industries, Invest Hong Kong
Key Topics
Why are art collectors and high net-worth individual new collectors collecting from jewellery, fine art and NFTs? Speakers will share with us good examples and tips on collecting from luxury, to fine art, to NFT.

How do professional portfolio managers manage the investment of art collectables and NFTs?

What are the major concerns for traditional investors to invest in digital arts and the web3.0 projects?