Access to Markets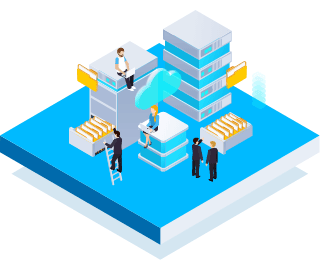 A diverse hotspot of innovation and opportunity, Hong Kong offers Fintech companies a strong, sizable and resilient market that continues to thrive even during disruptions. With easy access to capital and a thriving IPO market, the city is a premier, proven launchpad for international companies hoping to develop in Mainland China and the ASEAN region, as well as Chinese Fintech companies hoping to go global.
Resilient and Relentless Focus on Global Fintech Opportunities
Well-positioned to lead Asia's global resurgence through Chinese and ASEAN connections.
Consistently ranked among the GFCI's top 10 financial centres for over a decade.
Maximum exposure to Asia's unbanked youthful consumers – projected to lead global consumption.
Proven, Premier Scale-Up Launchpad
Asia's most competitive FS market and a doorstep to the world's largest, most-dynamic FS market.
The world's top-ranked IPO market and fourth largest capital market for exchange and high capital raising capability.
Diverse opportunities and access, for an ideal launchpad across Southeast Asia, Mainland China and North Asia.
Globally Trusted Fintech Lab at the Heart of Asia
An established financial centre that helps global companies build trust and credibility.
Most likely point of return for Chinese companies to be listed.
HK businesses have the skills, knowledge and ability to navigate Mainland China and overseas markets.
Hong Kong offers Fintech companies an ideal launch pad for scaling operations: the Guangdong-Hong Kong-Macao Greater Bay Area. These fast-growing markets are flourishing gateways between Mainland China and overseas markets, making them a perfect platform for innovation and expansion, buoyed up by Hong Kong's skilled knowledge base for integrating financial expertise and technology.
For broader GBA information beyond Fintech, please visit https://gba.investhk.gov.hk/en.html.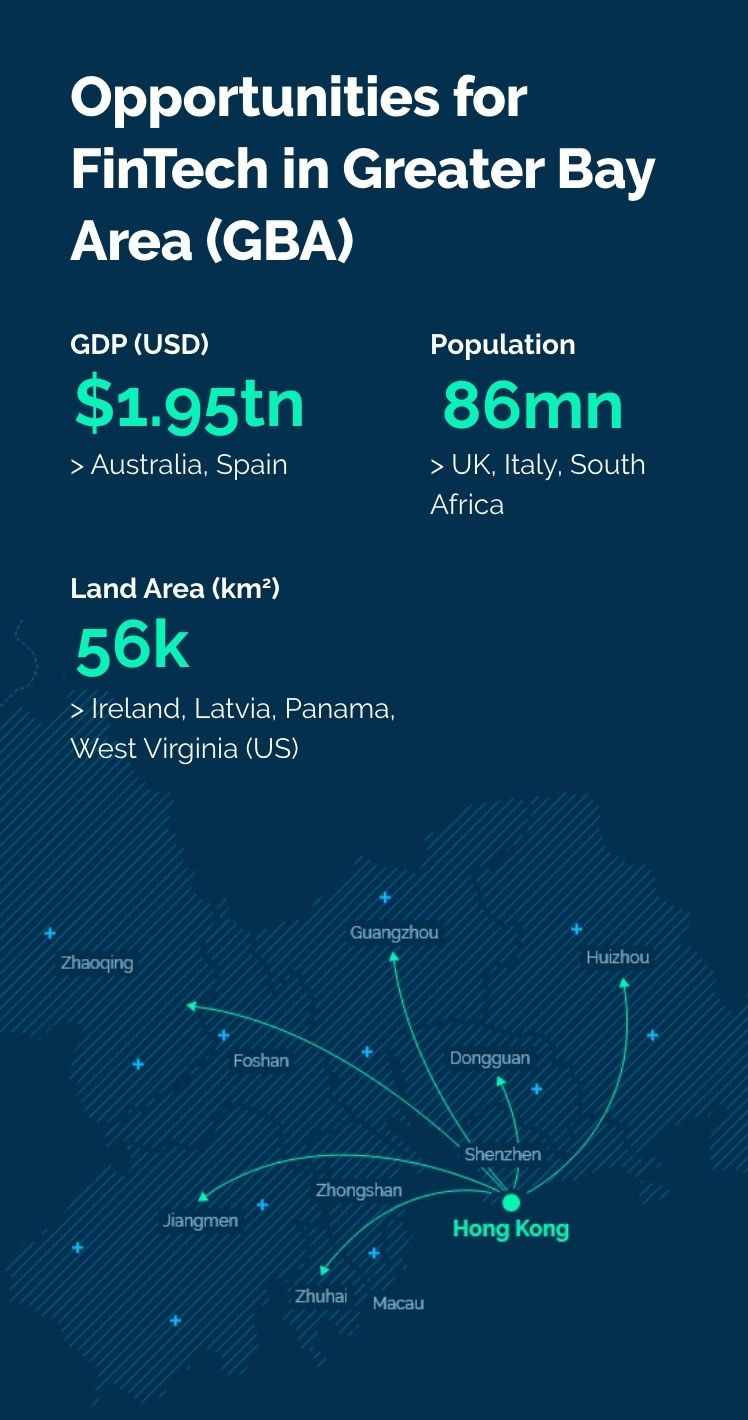 Download pdf: GBA Opportunities - Financial Services and Fintech
Fast Growing Market
A fast growing market for Fintech companies to scale their expertise and know-how.
Gateway for Mainland Fintech Companies
A gateway for Mainland Fintech companies to go overseas, and for overseas companies to enter the Mainland China's market.
Platform for Integration
A platform for integrating professional financial knowledge and software technology
Test market
A test market for new products and services.
GBA Express
GBA Express is a new one-stop service platform to support technology companies to grow and expand business in the Greater Bay Area (GBA) by providing a wide range of services, including professional go-to-market support services, extensive theme-based activities and comprehensive landing programmes in Hong Kong. 
HKSTP GBA Express Program
GBA Guide
GBA Express guide book (GBA guide) is a business guide for technology companies exploring opportunities in Guangdong-Hong Kong-Macao Greater Bay Area (GBA). GBA guide helps technology startups both overseas and in Hong Kong better understand the business environment and capture the fast growing opportunities in GBA. The Guide includes the general information about GBA, the must-know knowledge of how to start business in China, introduction of HKSTP's 16 local partner parks/institutions in 4 Guangzhou, Shenzhen, Dongguan and Zhuhai with their favorable policies and resources and HKSTP's services that would help their park companies landing and expanding their business in GBA.
Station 1: Setup your base in Hong Kong through partnership with HKSTP and InvestHK
The Hong Kong Advantages
Setup business in Hong Kong with the help of InvestHK
Benefits to join HKSTP GBA Express
R&D in Hong Kong
Station 2: Discover the advantage the GBA offers and find out "Where to Next" in the GBA after Hong Kong
The GBA Advantages
Unique attributes of each GBA cities
Station 3: Check out potential GBA Fintech Partners through the HKSTP connection
Fintech Partners in the GBA (refer to page 70-71)
Station 4: Access a step-by-step guide to starting a business in the Chinese cities
Company registration
Tax
Legal
Intellectual property
Talent recruitment
R&D Support
GoGBA toolkit by HKTDC
Over the years, the HKTDC has been facilitating cooperation between Guangdong and Hong Kong. To support companies in doing business in the Greater Bay Area, HKTDC provides useful official information on regulations, procedures and networks with the GoGBA website and WeChat mini-programme, the latter also offering tools such as public health updates, map, transportation guide and a day counter for individual income tax purposes.
HKTDC GoGBA WeChat mini-programme
HKTDC's GoGBA platform offers one stop for business support on the GBA. Apart from official information useful for doing business in the GBA, it also provides physical locations (one in Hong Kong and one in Shenzhen at the HKTDC office) where networking events, training or advisory sessions are conducted. Follow us on WeChat by scanning the QR Code.
Scan QR Code in WeChat for mini-programme: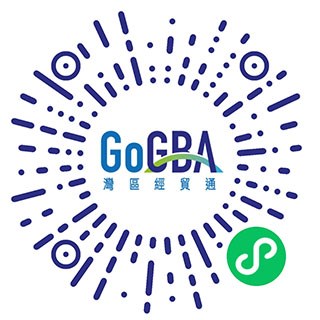 The Greater Bay Area White Paper
WHub has teamed up with the key players of the Greater Bay Area startup scene to create the GBA White Paper 2019.
What exactly is the Greater Bay Area? What makes it so much greater? Who are the key players in the region? The White Paper by WHub is a report to raise awareness of the resources for supporting entrepreneurship and innovation and educate external observers about the trends and key players in the region. It is based on external information, their observations and opinions
Discover more about the Greater Bay Area ecosystem in one white paper.
Download this White Paper for Free Now
Besides easy access to capital and a thriving IPO market, Hong Kong offers Fintech entrepreneurs maximum exposure to Southeast Asia and Mainland China, home to the world's largest middle-class, tech-savvy, mobile-centric millennial populations, with highly favourable access under the Free Trade Agreement with the Association of Southeast Asian Nations.
Trade in Goods
Zero or reduced tariffs for goods of Hong Kong origin
Investment Protection
Fair treatment and enhanced protection
Trade in Services
Fewer restrictions on Hong Kong Service Providers 1
Entry of Business Person
Hong Kong entrepreneurs may stay up to 90 days 2
Remarks
Free Trade Agreement with Association of Southeast Asian Nations (ASEAN):
https://www.tid.gov.hk/english/ita/fta/hkasean/text_agreement.html
1 as far as many sectors in individual economies are concerned
2 as far as individual economies are concerned