FEDP Forum: Building a Sustainable and Innovative Financial System in the Digital Age
15 Sep 2023 - 15 Sep 2023
FEDP Forum: Building a Sustainable and Innovative Financial System in the Digital Age
15 Sep 2023 - 15 Sep 2023
Date & Time
15 Sep 2023 - 15 Sep 2023
2:30 PM - 4:30 PM HKT
Venue
35/F, Deloitte China, One Pacific Place, Admiralty, Hong Kong / Zoom Webinar
View Map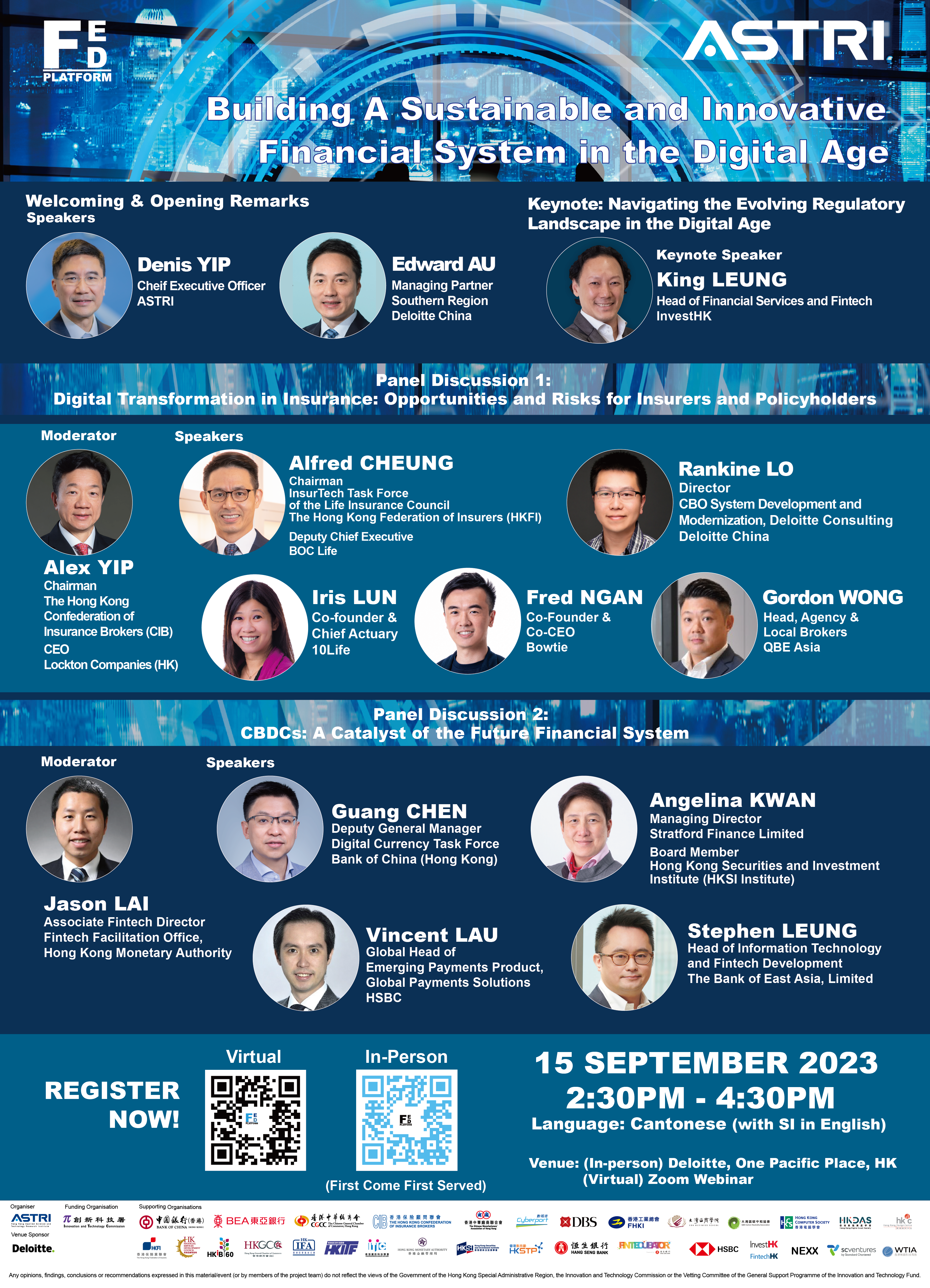 Join now for an insightful forum where finance industry professionals gather to discuss how to establish a sustainable and innovative financial system in the digital age. This forum provides a rare opportunity for professionals in the banking, insurance, data supply, SMEs, Startups and technology development industries to come together and address the most pressing topics in the field.
During the forum, you will have the chance to participate in a series of keynote and panel discussion sessions that delve into the critical issues related to building a sustainable and innovative financial system in the digital age. The Keynote Session will be delivered by experts on the latest developments in insurance regulation and how to navigate the complex and ever-changing regulatory environment. The three Panel Sessions will focus on trends and challenges of Insurers and policyholders in digital transformation, central bank digital currencies, and technology innovation, and explore how to create new opportunities in business etc.
The event will be conducted in Cantonese (with simultaneous English translation) on Friday, September 15th, from 2:30 PM to 4:30 PM. Regardless of your industry, the "Building a Sustainable and Innovative Financial Digital Era" forum will inspire you and provide opportunities to exchange ideas and establish connections with like-minded professionals. Don't miss out!
Date and Time
15 September 2023 (Friday), 2:30 PM - 4:30 PM HKT
Venue
35/F, Deloitte China, One Pacific Place, Admiralty, Hong Kong / Zoom Webinar
Language
Cantonese (with SI in English)