Accenture FinTech Innovation Lab APAC - Demo Day
18 Nov 2021 - 18 Nov 2021
Accenture FinTech Innovation Lab APAC - Demo Day
18 Nov 2021 - 18 Nov 2021
Date & Time
18 Nov 2021 - 18 Nov 2021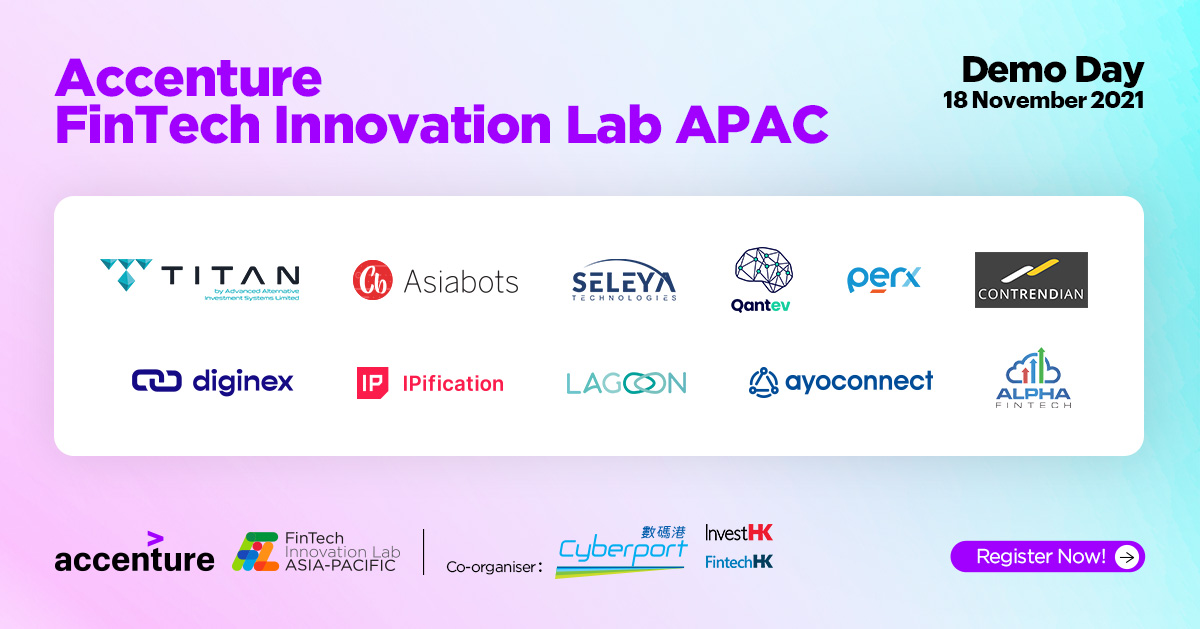 Accenture FinTech Innovation Lab APAC - Demo Day
We would like to invite you to the 8th Accenture FinTech Innovation Lab Asia-Pacific – Demo Day, where you will hear our honorable speakers and finalists on the latest innovations and industry trends, at the same time, interact with your fellow guests' avatars live.
Event Details:
Date: Thursday, 18 November 2021
Time: 2:00PM – 5:00PM HKT/GTM + 8
Who? FILAP 2021 Finalists
Format: Virtual Reality Live Event
*You will receive the broadcast link and the registration details in your confirmation email.
Why Join Us?
Get up to date with the latest FinTech Innovation landscape;
Speak to 11 FILAP 2021 finalists live on their latest innovation;
In-depth conversations with industry veterans on how technologies are shaping the future of the financial services industry in Asia-Pacific and beyond.
Experience first-hand a Demo Day in a near metaverse and interact with your fellow avatars live.
Confirmed Speakers
Mr. Christopher Hui, Secretary for Financial Services and the Treasury
Mr. Howard Lee, JP, Deputy Chief Executive, Hong Kong Monetary Authority
Ms. Samantha Zhu, Chairperson, Greater China, Accenture
Mr. Peter Yan, CEO, Cyberport
Ms. Harshika Patel, APAC Head of Strategy and Hong Kong CEO, JP Morgan
Mr. Patrick Lam, CTO, AIA Hong Kong & Macau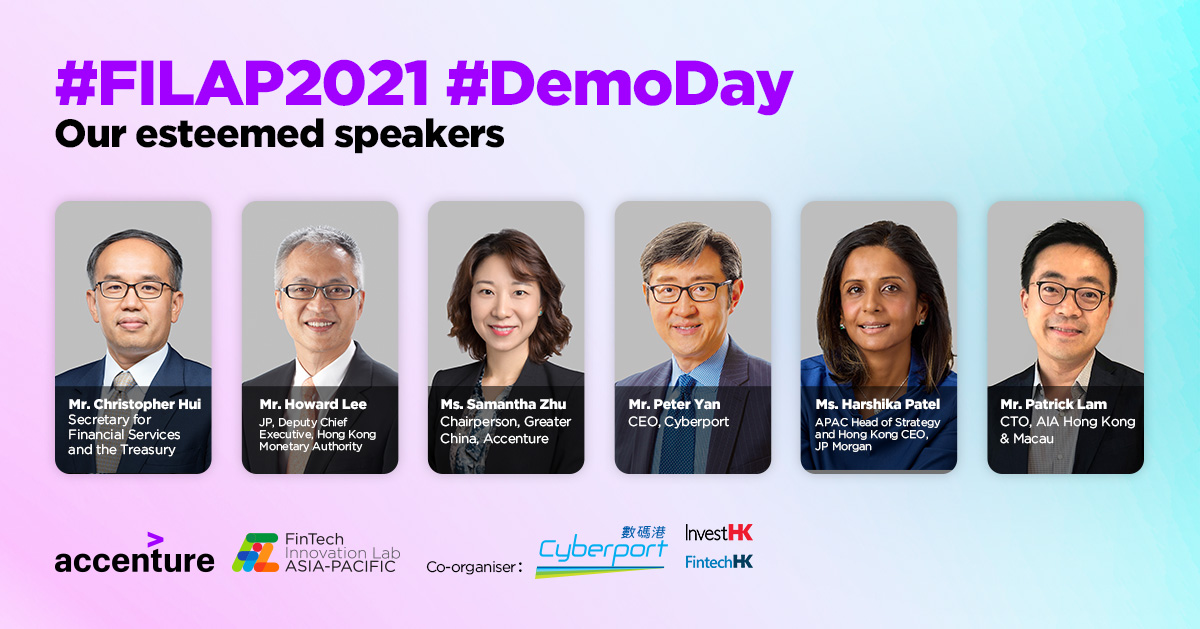 Register now by 15 November. You will receive a confirmation email with login details.
Attendees will include executives from Accenture; AIA; Bank of America; China Construction Bank (Asia); Credit Suisse; Generali; Hang Seng Bank; HSBC; ICBC (Asia); J.P. Morgan; Macquarie Group; Malayan Banking Berhad; Manulife; Morgan Stanley; Mox Bank; QBE; Societe Generale; Sun Life and Zurich Insurance. In addition, investors, government officials, members of the broader fintech ecosystem, and media will also be present.