HKSTP Elevator Pitch Competition 2023 (EPiC): Grow Fast Go Beyond
29 Dec 2022 - 29 Dec 2022
HKSTP Elevator Pitch Competition 2023 (EPiC): Grow Fast Go Beyond
29 Dec 2022 - 29 Dec 2022
Application Deadline
29 Dec 2022 - 29 Dec 2022
HKT 23:59 (GMT +8)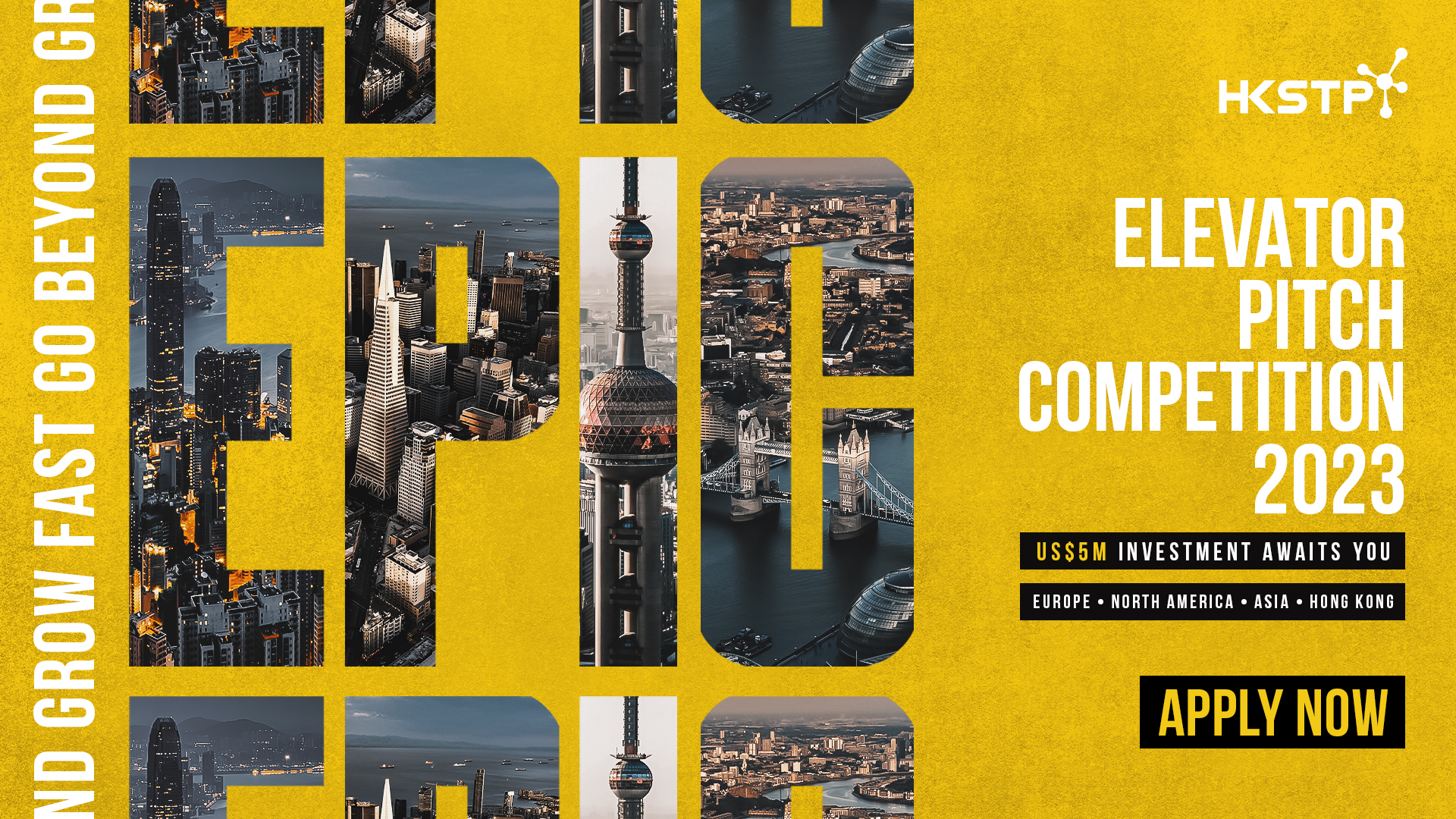 Expanding into Asia Has Never Been Easier
As Hong Kong's biggest innovation ecosystem, Hong Kong Science and Technology Parks Corporation (HKSTP) offers an investment opportunity of up to US$5 million and a vast channels of business opportunities to grow the most disruptive startups.
EPiC 2023 is a unique, worldwide competition for global startups to expand their footprints into Asia, with Hong Kong as your best springboard, leveraging well proven support from Hong Kong's innovation ecosystem.
Why Apply
HKSTP is no stranger to market expansion and fundraising for startups.
They are here to enable both global and local mid-late stage startups to expand farther, accelerate faster, and make a mark in Hong Kong and beyond.
Join EPiC 2023 to get challenged and see how far you can reach.
US$ 5,000,000 Investment
The top 50 semi-finalists will be qualified for up to US$5 million investment by HKSTP Venture Fund, HKSTP's corporate venture arm.
Asia-wide Recognition & Awareness
Be seen and get noticed by 1,000+ regional investors and 300+ corporate partners in our ecosystem. Make a grand entrance into China and the Asia Pacific as you expand.
US$ 210,000 Cash Prizes
Cash prizes worth a total of US$210K are up for grabs!​
Champion US$60,000​
FinTech Winner: US$20,000​
PropTech Winner: US$20,000​
Favourite Pitcher: US$10,000​
Top 10 Finalists: US$10,000 (each)
New Market Entry Support
Top 50 semi-finalists will reap the benefits of HKSTP ecosystem's value-added services for 6 months after the competition:  ​
Business matching services​
Investment referral services​
Exclusive membership of STP platform - the world's city-wide, cross-industry virtual lab ​
Use of co-working space​
Tap into the talent pool of HK's major universities, of which 3 are ranked in the world's top 50.
Who Should Apply
Tech ventures less than 10 years old in the following categories are eligible to apply.
FinTech

PropTech


Including but not limited to:

Banking and Insurance Tech
RegTech, Fraud Detection & KYC
Digital Assets
Risk Management
Payment

Including but not limited to:

Sustainability
Smart Environment
Construction
Application Deadline: 29 Dec 2022, HKT 23:59 (GMT +8)
Organiser
About Hong Kong Science and Technology Parks Corporation (HKSTP)
HKSTP has been committed for 20 years in building up Hong Kong as an international innovation and technology (I&T) hub, propelling success for local and global pioneers today and tomorrow. We attract and nurture talent, accelerate and commercialise I&T for entrepreneurs on their journey of growth in Hong Kong, the Greater Bay Area, Asia and beyond. HKSTP has established a thriving I&T ecosystem which is home to three unicorns and Hong Kong's leading R&D hub specialising in fields including biotechnology, AI and robotics, fintech and smart city technology. Today, it has over 11,000 research professionals, 1,100 technology companies, as well as three INNOPARKs that reinforce the vision of re-industrialisation for the city.​
Through our infrastructure, services, expertise and network of partnerships, HKSTP will help establish innovation and technology as a pillar of growth for Hong Kong, while reinforcing Hong Kong's international I&T hub status as a launchpad for global growth at the heart of the GBA innovation powerhouse. ​
​
More information about HKSTP is available at www.hkstp.org. ​
General Enquiry