Algo Trading Challenge 2023/24
31 Oct 2023 - 31 Oct 2023
Algo Trading Challenge 2023/24
31 Oct 2023 - 31 Oct 2023
Application Deadline
31 Oct 2023 - 31 Oct 2023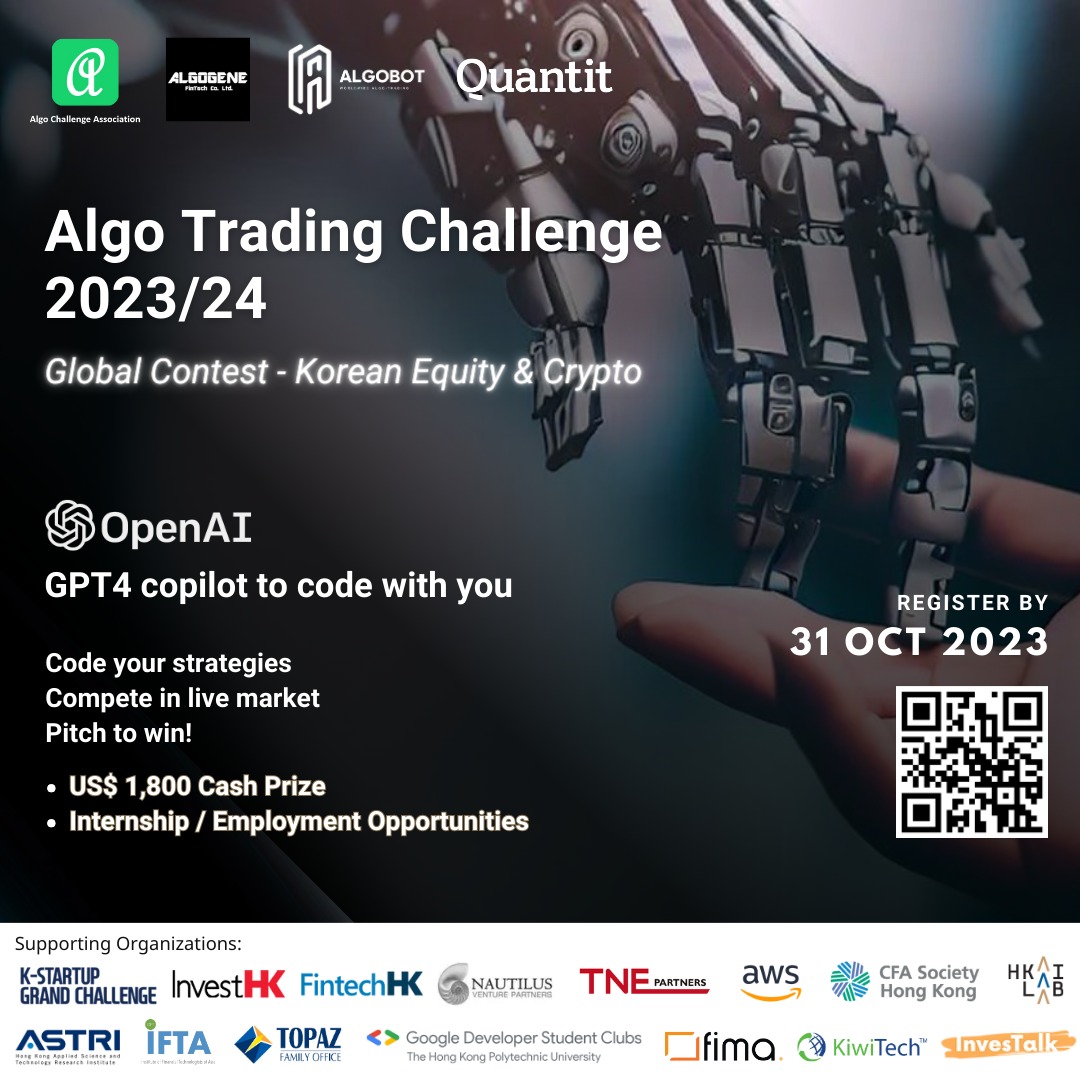 Welcome to Algo Trading Challenge 2023/24.
Code your trading algorithms, compete in live financial market, and pitch to make a name for yourself! Gain professional industry knowledge and practical skills to prepare yourself as the next-gen algo-trading professional.

This Challenge is open to public. Create teams of 1~4 members with diverse skills (maths, statistics, finance, coding, presentation) and register by 31 Oct 2023.
1st Round: Code
Teams will code their trading algorithm and test on our back-testing engine, then submit the code

Judges will backtest trading algorithms for return, volatility, robustness and practicality to select advancing teams

Submission deadline: 31 Dec 2023
2nd Round: Compete
Each team needs to compete in out-sample forward test and live paper trading

Live paper trading will last for 2 months from 2-Jan-2024 to 29-Feb-2024

Completion: 29 Feb 2024
Final Round: Pitch
Teams will present trading plan to judges in a 5-minute pitch session in Finale

The trading plan is a ppt less than 15 slides consisting of:
Executive summary
Trading idea description
Implementation detail
Stress test and risk management
Team biography
Judges will select winners in each of these categories:
Best Return
Best Sharpe
Best Strategy Design
Finale: 10 Mar 2024
Schedule
| | |
| --- | --- |
| Date | Event |
| 31 Oct 2023 | Deadline of Registration |
| 1 Nov 2023 | Online Briefing Session & Backtest Engine Introduction |
| 31 Dec 2023 | 1st Round: Back-testing Completed and Code Submission |
| 29 Feb 2024 | 2nd Round: 2-month Live Paper Trading Completed |
| 10 Mar 2024 | 3rd Round: Finale and Award Ceremony |
Awards
There are 3 award categories for each asset class (Equity & Crypto): (A) Best Return, (B) Best Sharpe, and (C) Best Strategy Design.

The winning teams from each category will be entitled to:
Cash Prize:
1st place: US$300
2nd place: US$200
3rd place: US$100
Employment Contract:
All prize winners may have a chance to have internship / full-time employment from the Organisers
Certificate:
All prize winners will receive a participation certificate
Free Subscription of Back-testing Engine:
All prize winners will get 1-year free subscription of our back-testing platform
Algo NFT:
All prize winners will have a chance to get their algo minted as NFTs in Opensea
Join Algo Challenge Association (ACA):
All prize winners will connect with algo fund managers and industrial professionals in Algo Challenge Association (ACA)
For more details, please visit https://algochallenge.org/kr2023/.