FinTech Olympiad Competition 2023
19 Mar 2023 - 19 Mar 2023
FinTech Olympiad Competition 2023
19 Mar 2023 - 19 Mar 2023
Submission Deadline
19 Mar 2023 - 19 Mar 2023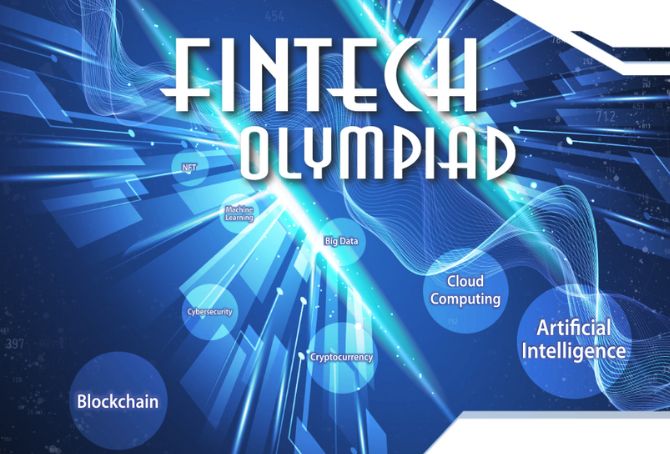 FinTech Olympiad Competition 2023 - Calls for Entries
FinTech has become an indispensable part of our everyday transactions, and the younger generation is the driver of the trend. FinTech Olympiad, organised by the City University of Hong Kong and powered by HSBC is calling on post-secondary students from the Greater Bay Area to design FinTech solutions that create values for social and economic advancements. The submission deadline will close on 19 March 2023.
Winning teams will have a chance to receive prize money up to HK$100,000 and industry support from HSBC, including the Hub for Future membership and networking opportunities that empower the young innovators to bring their ideas to life.
A. Summary
1 Workshop
6 Jan 2023

Design thinking & business innovation workshop

2 HSBC Networking Day
12 Jan 2023

Seek advice from HSBC industry experts
Meet like-minded people and expand network

3 Proposal submission
13 Jan - 19 Mar 2023

Design FinTech project & submit proposal

4 Screening
End of Mar 2023

Screening by the organiser per judging criteria
About 20 teams will be selected into final round

5 Announcement
Early Apr 2023

Announcement of finalists

6 Mentorship
Mid Apr 2023

Finalists will meet mentor(s) to seek professional advice

7 Final Competition
20 May 2023

Final competition in hybrid mode
Presentation by finalists
Evaluation by judging panel per judging criteria
Results announcement
B. Objectives
As a competition participant, you will be able to:
Develop your talents, using FinTech to create values for social and economic advancements
Showcase your creativity and disruptive ideas to deliver positive impacts and changes to the society
Broaden your network across different universities in the Greater Bay Area and enhance teamwork and leadership skills
Grow and transform yourselves into creative problem-solvers, effective communicators and future leaders
C. Winners' Rewards
Awards with prize money (per team) include:

Gold Medal: HK$100,000
Silver Medal: HK$50,000
Bronze Medal: HK$30,000
Best Cross-border FinTech Solution: HK$10,000
Social Impact Award: HK$10,000

HSBC Hub for the Future Membership
Networking opportunities with HSBC experts
Exposure in the FinTech Olympiad website and press release
Certificate of the award
D. Eligibility
Current post-secondary students or recent graduates within 3 years from all disciplines
Students can participate as an individual or as a team (2 to 6 people)
One student can participate in only one team
Team representation: each team must nominate one representative academic institution if any of the team members are from different academic institutions
One team can submit only one project
The project must be related to financial technology
E. Judging Criteria
(1) Problem solver [25%]

Desirability: Unique value proposition: concise, straight-to-the-point statement about the benefits you offer your target customers / beneficiaries. How the product or service can satisfy people's desire
Viability: Can the product or service become a sustainable business? What has to be true for this business to work? What are the costs? How to pay for it?
Feasibility: Can the product / service be developed, in terms of technical constraints, financial constraints, operational capabilities, estimated time-to-market, etc

(2) Changemaker [25%]

Who are the target beneficiaries
What contributions to the community / beneficiaries
Short term and long term impact, that may facilitate to make a better world

(3) Innovator [20%]

Creativity, in terms of the product or service itself, and/or how the product or service solve the problem in a creative / disruptive way
Technology: effective and efficient adoption of financial technology to address the pain point and to solve the problem

(4) Thinker [15%]

Identification of pain point/problem
Who are the key stakeholders and their concern
Assessment of competition / substitution and suggestions to deal with it
Consideration & management of risks; regulatory & other factors

(5) Leader & Communicator [15%]

Passion, ambition, vision of the team
Team's capability and expertise in developing the solution
Ability to leverage external network / resources
Presentation and communication skills
F. Competition Arrangements
Proposal submission

Competition teams should submit their proposals online, including:

Presentation (suggested 15-20 slides) to introduce the project, which can demonstrate teams' capabilities per the judging criteria
All materials should be in English language

Screening

The screening will be processed by the organiser
Qualified teams (about 20 teams) will be shortlisted to the final round

Mentorship for finalists

Finalists will meet mentor(s) to seek professional advice
Format: hybrid (face to face in CityU for local teams; online for non-local teams, subject to pandemic situation)
Mentors' background: experienced business leaders and FinTech experts

Final Competition

Each finalist team will be given 5-10 minutes to present their ideas, followed by Q&A session by the judging panel
All pitching sessions will be recorded (and/or publicly released online)
Each finalist team will be given a booth to showcase their projects (tentative)
Judges will evaluate finalist teams and result will be announced on the same day
Final competition will be held in hybrid mode (face to face in CityU for local teams; online for non-local teams, subject to pandemic situation)
Language: English
G. Judges
Experienced business leaders & FinTech experts
Academic professionals
H. Enquiries
About Fintech Olympiad
FinTech Olympiad (FTOL), organised by the City University of Hong Kong and powered by HSBC, is an active learning programme designed to empower and inspire young FinTech talents and to promote connections among the FinTech communities in the GBA. FTOL provides a series of training, a project-based competition and networking opportunities that equip post-secondary students in the GBA with FinTech knowledge, skills and connections that can enhance their competitiveness and employability and help them surf the auspicious FinTech trend.