The 8th Cloud Forum
28 Jun 2023 - 28 Jun 2023
The 8th Cloud Forum
28 Jun 2023 - 28 Jun 2023
Date & Time
28 Jun 2023 - 28 Jun 2023
8:30 AM - 5:30 PM HKT
Venue
N101, Hong Kong Convention and Exhibition Centre
View Map
The 8th Cloud Forum is a must-attend event for business and technology leaders and professionals to optimize cloud use and stay ahead of the rapidly evolving industry. The Fireside Chats focus on Hong Kong's ecosystem as a global Fintech leader and traditional businesses tapping into Web 3.0. The Panels explore Web 3.0 and AI/ML potentials and pitfalls, digital infrastructure and IT operation sustainability, and cloud security, data protection, and skills shortage. Innovative applications like AI-powered ChatGPT, decentralized finance, AR gaming, and real-time automation highlight the need to keep up with cutting-edge developments.
Attendees gain valuable insights on cloud security, hybrid cloud strategies, and cloud-native development to apply in their organizations. The event also provides networking opportunities with leading cloud service providers and leaders from various industries, driving innovation and business growth.
Themes
Hybrid Clouds
Cloud Security
Web 3.0
Cloud Automation
Cloud Innovations
Who Should Attend
The 8th Cloud Forum is a perfect event for the innovative business executives and sharp skilled professionals. Whether you are involved in the digital transformation of your business, the management of a mountain of useful data or the defence of all sorts of cloud threats, you will find something useful at our event.
Fireside Chat 1 Highlight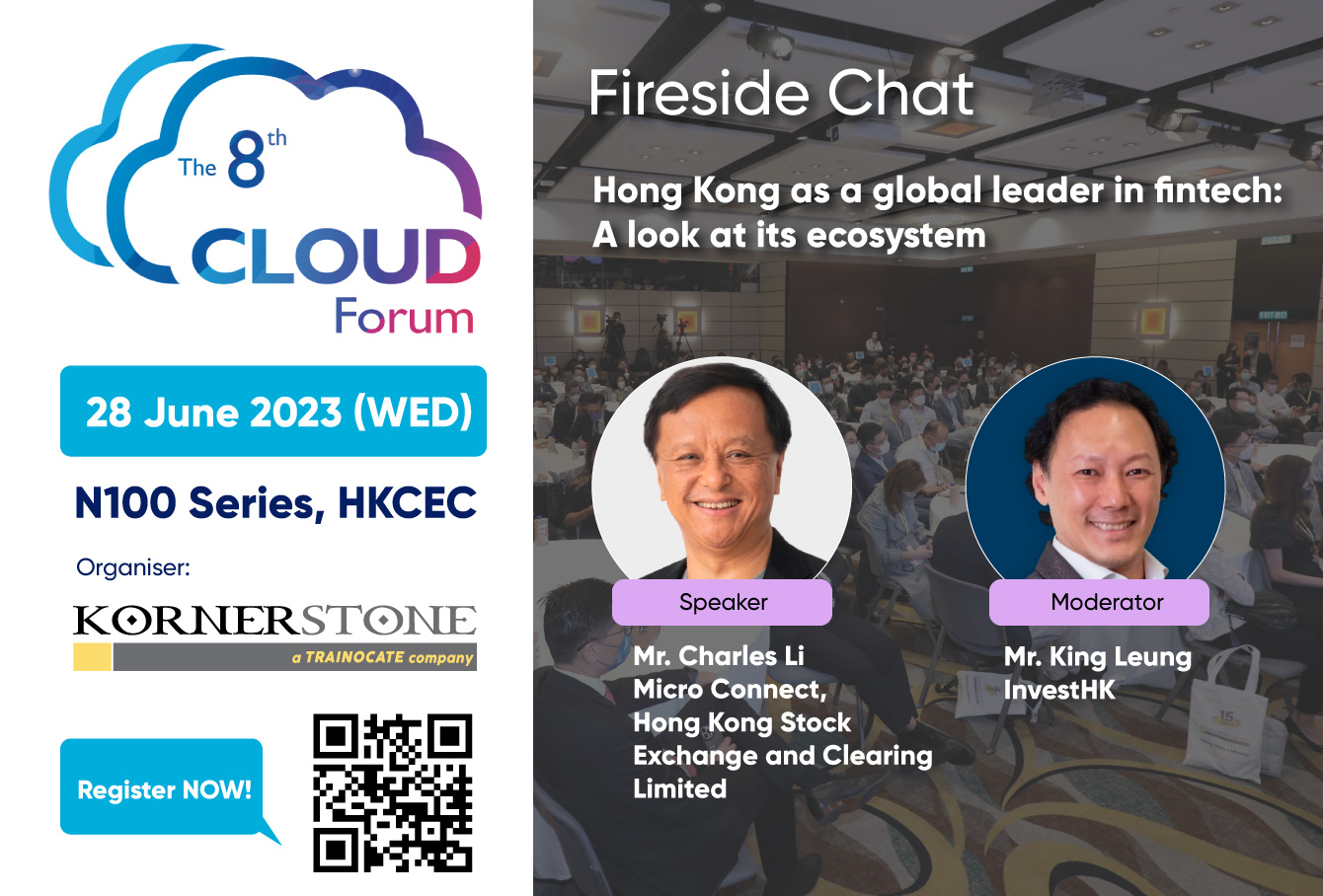 Supported by Invest Hong Kong, King Leung, Head of Fintech of Invest Hong Kong, will join Charles Li, Founder and Chairman of Micro Connect, to talk about Hong Kong's vibrant ecosystem as a global leader in Fintech. 
Speaker:
Charles Li, Founder and Chairman, Micro Connect;
Former Chief Executive, Hong Kong Stock Exchange and Clearing Limited

Moderator:
King Leung, Head of Fintech, InvestHK