WOW Summit 2023
29 Mar 2023 - 30 Mar 2023
WOW Summit 2023
29 Mar 2023 - 30 Mar 2023
Date & Time
29 Mar 2023 - 30 Mar 2023

Venue
Asiaworld-Expo, Hong Kong
View Map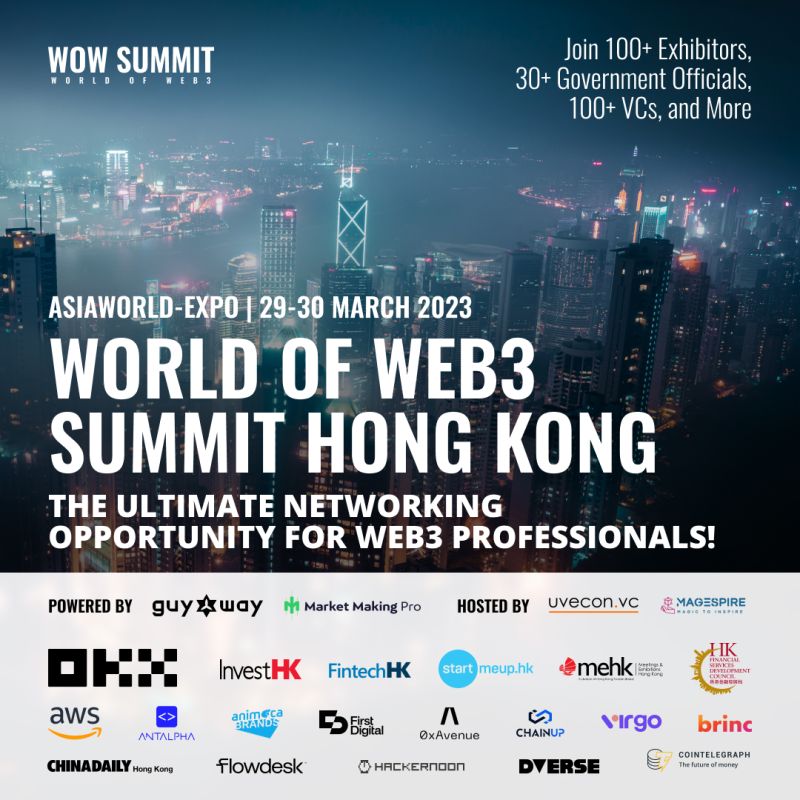 A Flagship Web3 Event in APAC
WOW Hong Kong 2023 follows successful WOW Summits hosted in Dubai, UAE, and Lisbon, Portugal, in 2021-2022. Hong Kong is a strategic location in the APAC region – Web3 mass adoption is booming here. Its government announced a strong commitment to make Hong Kong a leading hub in Web3 and Virtual Assets space. WOW HK is the first large-scale Web3 event in Hong Kong after its borders reopened and Covid restrictions have been lifted. Join us to meet industry leaders, government officials, funds and VCs, NFT and digital artists, entrepreneurs, and multinational corporates for important discussions, networking, business, and fun!
Who Is This Event For?
Enterprises
Find relevant projects for collaboration, network with regional government authorities, and discuss your business expansion in APAC.
Digital Art Lovers
Meet artists and creators, explore new NFT art, negotiate deals, find backers, and hang out with other talented folks in the space.
Startups
Pitch a startup idea and showcase your innovations in front of the early adopters, VCs, government authorities, and enterprises.
Developers
Discuss the latest technology news, meet local and global developer communities, and find potential clients, talent, or partners.
Investors and Funds
Meet valuable startups with traction, and possibly the next unicorn to invest. Get access to curated startup pitch decks.
Government Officials
Explore the latest tech solutions for CBDC, Digital ID, tracking and tracing, AML and RegTech, and healthcare blockchain-based projects.
Network Like A Pro
WOW Summit is a global series of niche Web3 events where attendees get to hang with the best in the industry, and quickly reach their networking KPIs. Build the new world together, and learn from each other. The time is WOW!