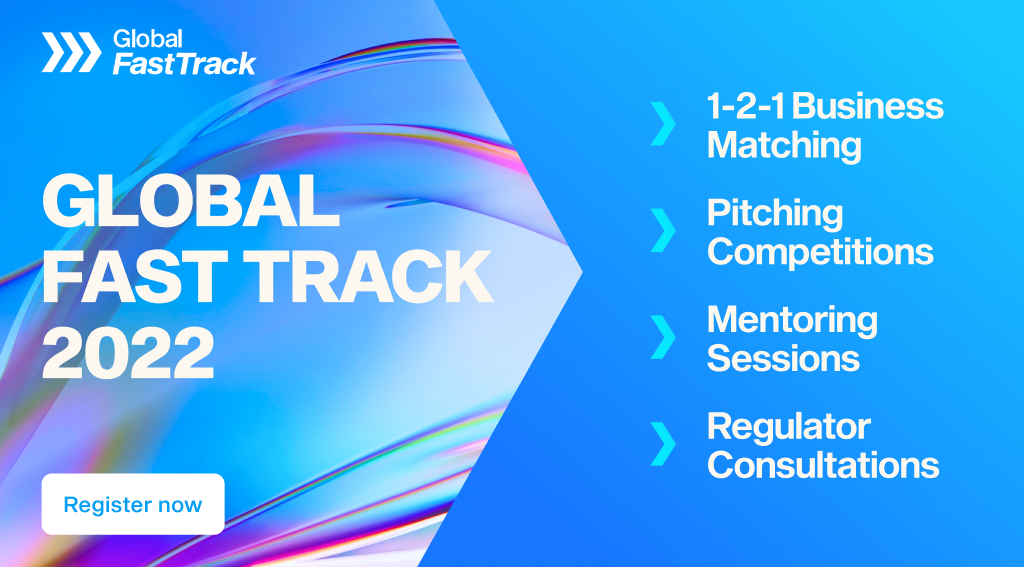 Invest Hong Kong (InvestHK) announced today (June 7) the launch of Global Fast Track 2022, a programme that helps fintech companies leverage the unique advantages of Hong Kong to scale in Asia while building a solid foundation for long-term growth. Returning for its third year, Global Fast Track is now open for applications from global and local fintech companies looking to connect with corporate clients and investors and capture fast-growing opportunities in Asia and beyond.

Starting this year, Global Fast Track will be a standalone flagship programme that runs throughout the year. It offers extended support to empower fintech firms to scale and grow. Given that fintech firms have varying needs throughout the business cycle, the year-long programme will enable InvestHK, corporates, investors and partners to provide long-term, tailored and holistic support for firms. Partnering regulators of Global Fast Track are the Hong Kong Monetary Authority, the Insurance Authority, the Securities and Futures Commission and the Customs and Excise Department.

Global Fast Track's business matching portal, pitching competition, and mentoring sessions will connect qualified applicants with a diverse range of Asian Corporate and Investor Champions to explore potential business deals and investments. In addition, it will feature for the first time Service Champions selected from a broad spectrum of professional service providers, including but not limited to law firms, marketing agencies, information service providers and talent development companies. They will enable fintech firms to draw from a wider range of relevant expertise to accelerate their business growth.

"The success of InvestHK's Global Fast Track shows that Hong Kong is one of the most attractive places for fintech firms to grow, scale, achieve impacts and flourish," the Director-General of Investment Promotion at InvestHK, Mr Stephen Phillips, said. "The expanded programme showcases the unique advantages of Hong Kong as a global fintech hub, from keen fintech adoption and diverse funding opportunities to world-class professional services. In short, Hong Kong has everything a firm needs to succeed."

The Head of Fintech at InvestHK, Mr King Leung, said, "As one of the most dynamic scale-up programmes globally, Global Fast Track provides qualified candidates direct access to Hong Kong's thriving fintech ecosystem. Following last year's success, we have introduced Service Champions to this year's Global Fast Track to provide even more tailored and comprehensive support to fintech firms. Selected firms can be confident that they will have ample resources to grow their business and achieve their scaling ambitions."

Global Fast Track 2021 achieved significant success with over 300 fintech firms receiving support from more than 90 local and regional Corporate and Investor Champions. Last year's Corporate and Investor Champions included AIA, AlipayHK, AMTD Group, Citi, CITIC Capital, Chow Tai Fook Enterprises Limited, Cyberport, the Family Office Association Hong Kong, Greater Bay Area Development Fund Management Limited, Hong Kong Exchanges and Clearing Limited, the Hong Kong Science and Technology Parks Corporation, Hongkong and Shanghai Banking Corporation, LFX, Manulife Hong Kong and Macau, the MTR Corporation Limited, SC Ventures, Visa, WeChat Pay HK and more.

Application is open from now until September. Qualified fintech firms can start engaging Corporate, Investor and Service Champions that match their business needs in one-to-one meetings via the matching portal starting from July. Participants will also have access to mentoring and consultation sessions with Champions, regulators and partners to further develop their market entry and growth strategies. Outstanding fintech firms from eight key fintech verticals (Commercial Banking; Digital Assets; InsurTech; InvestTech and WealthTech; Payments; RegTech; Retail Banking; and Environmental, Social, and Governance) will be invited to enter an online pitching competition. The competition final will be held during Hong Kong Fintech Week in November.

Learn more about the complete list of Champions and the application process here: www.globalfasttrack.hk, and follow FintechHK through the following channels: LinkedIn/YouTube.
About InvestHK
InvestHK is the department of the Hong Kong Special Administrative Region Government responsible for attracting foreign direct investment. It has set up a dedicated fintech team in Hong Kong to attract the world's top innovative fintech enterprises, start-up entrepreneurs, investors and other stakeholders to set up or scale their business via Hong Kong into Mainland China, Asia and beyond. For more information, please visit www.hongkong-fintech.hk.
Ends/Tuesday, June 7, 2022
Issued at HKT 15:00