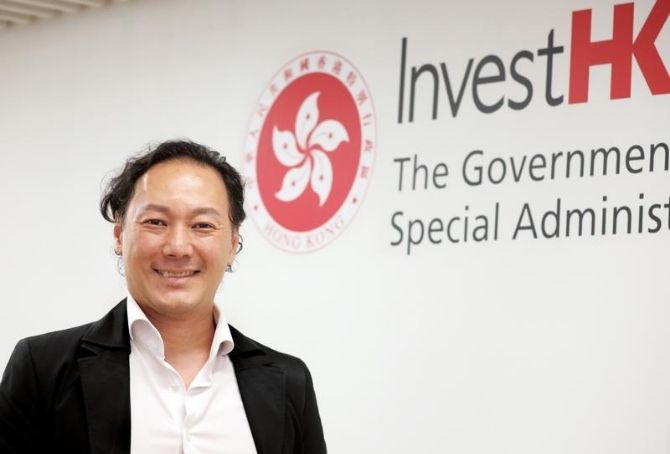 InvestHK is working with global financial technology companies to expand their presence in the region. Kapila Bandara reports from Hong Kong.



The success of three financial technology ventures in the Guangdong-Hong Kong-Macao Greater Bay Area demonstrates how they widened their footprint using the Hong Kong Special Administrative Region as a gateway.
These are Ping An Cloud Accelerator, a subsidiary of Shenzhen-based financial service company Ping An Group; Hong Kong fintech firm WeLab; and loyalty-points conversion platform KeyPoints Exchange.
"Ping An set up Ping An Cloud Accelerator in Shenzhen. They want to work with the best global talents,'' said King Leung, head of fintech at InvestHK.
InvestHK connects the stakeholders. We facilitate GBA expansion for fintech firms ... that have decided to use Hong Kong as the Asian headquarters. The next step for them is the GBA.
King Leung, head of fintech at InvestHK
"InvestHK connects the stakeholders. We facilitate GBA expansion for fintech firms, for example, from Europe, and Israel, that have decided to use Hong Kong as the Asian headquarters. The next step for them is the GBA.
"They would like to fast-track the process of going into the GBA. We will introduce them to our mainland partners, such as Ping An Accelerator. Ping An has about two cohorts a year. There's a lot of proven demand. When the fintechs are selected, they work on proof-of-concept projects and, if that works, they will get a paid contract.
"Another example is WeLab, a homegrown Hong Kong fintech unicorn. They have been a pioneer and have been in Shenzhen for a number of years. The reason is simple. Shenzhen has a strong talent pool, with talents coming from across the country.
"WeLab is not just a business-to- consumer lender. It also has a solid B2B business. One of its clients is the Postal Savings Bank of China, whose online lending engine is supplied and supported by WeLab," Leung said.
WeLab has numerous partnerships with enterprises like PSBC. The Hong Kong and Shanghai listed commercial bank has reported having 314 million mobile banking customers. According to WeLab Group, it has more than 50 million individual users and 700-plus corporate customers, mostly on the Chinese mainland. The B2B brand is Tianmian Tech.
For PSBC, WeLab has designed a bespoke solution that allows the bank to offer mobile lending solutions to customers via an app. 
Leung said KeyPoints Exchange also has an innovative business model. "They provide a points-system mechanism to facilitate consumer engagements. They will integrate the different points systems so that points earned from one points system can be used elsewhere."
KeyPoints Exchange users can bind their UnionPay credit cards and use the "two-codes-in-one" technology to pay with points at stores where UnionPay is used.
"The vision of KeyPoints Exchange is that for someone who earns points in, say, Dongguan in Guangdong province, he or she can use them for purchases in Hong Kong. Points earned in Hong Kong can also be redeemed in other GBA cities. They plan to launch a pilot with a bank in Macao," Leung said.
KeyPoints Exchange, a member of the Cyberport incubation program last year, allows loyalty points of various merchants to be exchanged. Its platform also allows points to be integrated and redeemed. 
For a macro view of fintech, Leung cites Cindy Chow, executive director of the Alibaba Entrepreneur Fund, an important stakeholder and advocate of fintech in Hong Kong.
"According to her, over the past seven years, the No 1 sector the fund invested in is fintech. Cindy is in a great position to see the whole evolution of the sector," Leung said.
Fund data show that it has invested in more than 50 startups, committed HK$600 million ($76.9 million) and drawn more than HK$13 billion of co-investments as of March 31.
From 'Stage 2.5' to 'Stage 3'
Fintech has gone through various stages of evolution in Hong Kong. 
"Generally speaking, we have seen three waves of activities. The first wave is about solving the day-to-day-problems, such as payments and B2C," Leung said.
"The second wave is enterprise solutions. The sophistication in the market has advanced. Consumers have higher expectations of these advances. Hong Kong is now at 'Stage 2.5'. The third stage is ESG (environmental, social and corporate governance) fintech. We are seeing more ESG fintechs. We would like to bring them in to help enrich the ecosystem. 
"We have seen action in all three stages. We are getting really good traction in Stage Two. We are just getting started on Stage Three."
Leung said there are about 21,000 fintechs worldwide. "ESG fintechs are on an upward trajectory, but the absolute number of ESG fintechs is still relatively small compared with other fintech subsectors.
"Companies need ESG consultants, and ESG fintechs have sprung up to fill the gap with automated, self-guided applets. So a firm could carry out most of the ESG reporting work itself."
There is also green finance, Leung said.
"How do you know that companies' investments are really green? A second category of companies has also sprung up, offering data collection capabilities and analytics. They compile the data for investment managers. Green validation will be another emerging category.
"We met one company from Sweden virtually. They have worked with a payments company and work with merchants. This fintech will tell a purchaser based on a particular purchase, what the carbon footprint is. In their credit card, they also allow consumers to set their own carbon-footprint limit, and once the cap is reached, no more spending is allowed."
Leung said the Swedish company wants to take its offering further. "They have reached out to green funds. So a buyer who feels obliged about his or her carbon footprint would be offered green fund products choices to invest in and offset the carbon footprint. This is a way to incentivize and influence consumer behavior," Leung said.
Leung offers a historical perspective of Hong Kong's fintech evolution.
Compared with 2014, Hong Kong hosts more than 600 fintech companies and has secured its place among the world's preeminent fintech hubs, largely the result of being a financial heavyweight as well as government policies and regulatory improvements. 
 "Back in 2014, fintech adoption in Hong Kong was rather slow. Since then, the HKSAR government and regulators have made many commitments and launched a series of initiatives, including the setting up of the fintech facilitation office, Hong Kong Science Park and Cyberport, to nurture fintechs. Regulators, including the Hong Kong Monetary Authority, support these initiatives," Leung said.
"InvestHK, which works closely with the private sector, received funding from the Financial Services and the Treasury Bureau to implement the government's fintech policies to attract fintech companies to Hong Kong. InvestHK was asked to explore the world's most capable fintech companies, including those on the Chinese mainland, and invite them to the HKSAR to help enrich the city's fintech ecosystem. This is the major mission."
As for the second mission, Leung said regulators have some great ideas to transform. "We would like to share those forward-thinking views with the rest of the world. And, the best way to do it is to host large-scale events, such as Hong Kong Fintech Week. We started with about 2,000 people and it grew. Last year, we hosted it virtually, and we had 1.2 million online viewers."
Leung said the reason for this is the far-reaching impact of initiatives. "For example, people would look enthusiastically at the development of the central bank digital currency."
A PwC report that benchmarked the readiness of central bank digital currencies around the world at the wholesale level, ranked Hong Kong joint-No 1 with Thailand, Leung said. "These reports caught attention."
Contact the writer at bandara@chinadailyhk.com
Related Links:
Source:
China Daily HK